Malaysia, Singapore, Thailand, Hong Kong
Malaysia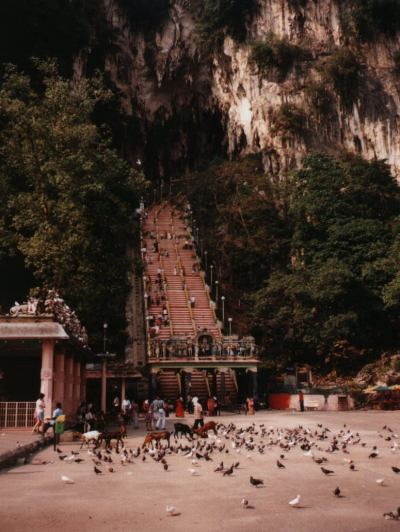 Reverse Culture Shock - I believe is the correct term. I arrived in KL and got picked up by my friend at the airport, who drove me to my accommodation. Now, it just so happens that my mates family own a very successful chain of hotels (Grand Continental) across Malaysia. So when I walked into my new room, I didn't walk into some drab room with insects crawling around the floor, as had been the norm for the last 6 weeks. Instead I couldn't believe my eyes when my mate showed me into one of the hotel's suites. I didn't even dare sit down. Eventually my mate convinced to take a seat, so I cautiously sat down on the edge of the bed. Wow!
KL is a nice city, quite developed, it's one of the major shopping destinations in Asia for rich tourists. In view of this, I am hardly surprised at the number of shopping centres in this city. Buildingwise, the Petronas Towers are certainly very impressive, but there are (or were then) a plethora of half finished high rise buildings, a legacy of the Asian tiger economy gone bust. Personally, I thought KL was OK, but it wasn't exceptional and was not that interesting.
My mate kindly organised a couple of day trips to various historical towns. Melaka, on the west coast, south of KL, is very interesting, having been settled by the Portuguese, Dutch and English at various points in history. Also impressive are the Batu caves. These are vast caves with various Hindu shrines hewn into them. Plenty of monkeys around the place add to the peculiar atmosphere. Thanking Min for the wonderful time I had in KL, I got a train to Singapore, about 3 hours south.
Singapore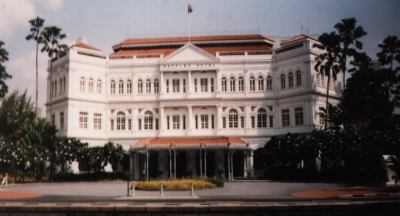 Singapore is wonderful. The streets are clean, the buildings in perfect condition, the traffic calm and the whole city extremely organised. It makes a huge change to the other large Asian cities and they even have pedestrian crossings, a somewhat novel idea in most Asian cities. I stayed in a nice place called Season Homestay. The owner was friendly and helpful and there was a free breakfast.
Highlights of Singapore must be Orchard Street for the shopping, Arab St. with some nice mosques and little India for its small alleys full of shops. But the best thing must be the underground! I have never seen any transport system this clean and efficient. It certainly beats the pants off the London underground. Of historic interest is the Raffelesia Hotel, supposedly the finest hotel in the world - not that I could afford to go in and find out.
After spending the next two days yo-yoing between Malaysia and Singapore (hard to explain, but mainly due to all the places of interest to me being packed out due to a public holiday in Malaysia) and becoming good friends with the border guards, I decided to head to Thailand. It was also around about this time that I decided to start making my way home (which was Germany at the time). So I booked myself on a bus to Hat Yai, south Thailand, in the hope of catching a connecting bus on to Bangkok from there.
Thailand
I arrived in Hat Yai about 8 hours later after leaving Singapore and had to hang around there for 5 hours before my bus for Bangkok was due to leave. Being somewhat tired I sat myself down in a food hall and watched Back to Future in Thai.
Bangkok has it all. Culture, history, nightlife and all three vices. It is, I imagine, the latter which attracts a lot of the tourists. Kao San Road is possibly the most famous street on the backpacking trail. The vibrant mix between western and Asian culture makes this a great place to hang out. Some might complain about the increasing commercialisation of the street and the difference some 18 months later (see elsewhere) was definitively noticeable. But those who complain are being unfair. If you don't like the place, go elsewhere.
As far as attractions go, there's plenty to see. A great way of doing this, is to take the river boat services. They are cheaper, quicker and infinitely quieter than getting a tuk-tuk or taxi through the crowded Bangkok streets. Wat Pho is worth a visit, with its multitude of temples and stupas. It is also home to Thailand's largest reclining Buddha. On the other side of the river is Wat Arun, for me so most spectacular temple in Bangkok, especially at sunset. Another must see are the Royal Barges and, if you're interested, take a walk around the surrounding 'floating city' with houses on stilts above the river. It offers an interesting view into a more genuine Thai way of life.
Next I headed off to Hong Kong to visit a friend of mine from University.
I am afraid there's no photos from here on, since my camera screwed up somewhere in Kuala Lumpur and the photos didn't turn out. I have since been back to Bangkok and I will add some photos once I've scanned them in. I have no idea when I'll be back in Hong Kong, so if anybody wants to 'donate' some photos, just get in touch. :-)
Hong Kong
Flying into Hong Kong is a hair raising experience. Being able to look into peoples homes is not something I would normally want to do from a plane. But this is how close the planes get to the high rise flats when landing in HK. Sadly (or thankfully, depending on how you look at it) this experience will be spared future passengers, due to the completion of the new airport, slightly further out.
Hong Kong is a big bustling 24 hours city. It is also, probably, the most capitalist city in the world, despite being Chinese. This means that with the right money you can get anything and everything here. As far as tourist attractions go, Victoria Peak offers great views of Hong Kong harbour. If you want to get away from it all the nearby islands are relaxing or, if you don't like boats, get a bus to Stanley on Hong Kong island. This is a nice place with some touristy markets, good for getting souvenirs and presents. Finally Kowloon is a must for shopping and if you go there from Hong Kong island, get the Star ferry, the first ferry company in Hong Kong.
Nightlife in Hong Kong is sorted too. I went to a Cream (the Liverpool nightclub) gig on my first night in Hong Kong, which was excellent. The other nights weren't bad either.... Also I had a go at the races but, as always with me, I lost. And that's it! I flew back to Bangkok, hung around the airport for half a day and then flew home.
Home sweet home
Arriving home was a strange feeling. The first thing which struck me was how calm, peaceful and quiet everything was, compared those mad Asian cities. Secondly it was great to see family and friends again. But within about 2 weeks all I could think was: "I wanna go again". I am writing this over two years since getting back and I still promise myself "I'll go next summer". But one day I will and I know that whatever it might be I have to give up to do so, it will be worth it.