Carers and confidentiality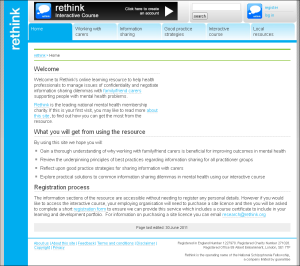 Minervation built and launched this site for Rethink in 2010. It was co-production with Rethink and Seefood.tv. The site is
"an online learning resource to help health professionals to manage issues of confidentiality and negotiate information sharing dilemmas with family/friend carers supporting people with mental health problems."
The site's main focus is a set of interactive training courses dealing with the issues of information sharing and people with mental health problems. It includes a final quiz which, if passed, allows the user to download a certificate of training in PDF format. Whilst the course and quiz require registration, the site also contains a load of good public information.
This site was awarded the 2010 IVCA Clarion Award for best interactive website.
Launch date: late 2010
Links