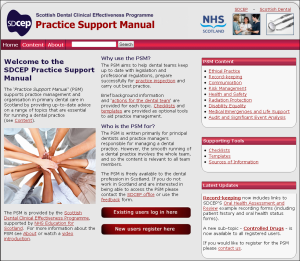 The SDCEP Practice Support Manual is another site Minervation produced for Scottish Dental.  It supports practice management and organisation in primary dental care in Scotland by providing up-to-date advice on a range of topics that are essential for running a dental practice.  The site is freely available to all dental workers in Scotland, but requires registration using a code provided by the SDCEP office.
The content on this site is really quite extensive and contains a ton of information on running a dental practice in Scotland.
Launch date: late 2010.
Links