Racing's in the family. John Greenwood is a relative of the family on my mother's side. He was a successfull Speedway racer until a racing accident left him with one arm.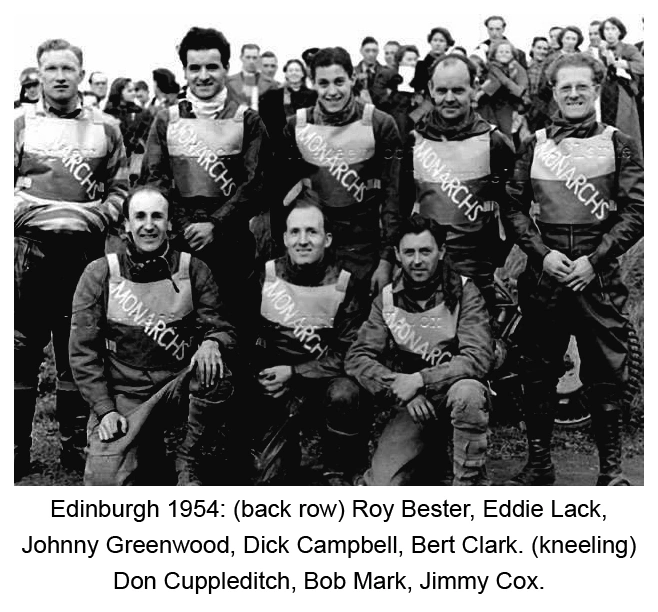 Image and text taken from an article by John Hyam on the Speedway Museum Online.
Here's the article so I have a local copy in case that link breaks.
ONE of speedway's tragedies is when a potentially brilliant career is shattered by injury. There have been many instances over the years, and one that especially stands out in my mind concerns Johnny Greenwood.
He was just 21 years old when his career came to a shuddering end in 1956 more than 6,000 miles away from his home at Keighley in Yorkshire. It happened at Adelaide when he broke his right arm which was left partially paralysed bringing an abrupt end to a promising career.
Bill Walsh, a former cycle speedway rider from Keighley in Yorkshire, has been a lifelong friend of Greenwood. Bill said, "I first met Johnny when we were pupils at Keighley Boys Grammar School and we are still in regular contact.
"He was taken to ride in Australia by Fred Tracey, the old Walthamstow and Coventry rider, who was then the Melbourne promoter. He did so well at Melbourne that it was decided to take Johnny on to race at Adelaide where Jack Young was the big star. And Johnny's winning ways meant that he was soon a backmarker off 200 yards in handicap races. Only Young was given a bigger handicap - 20 yards behind Greenwood.
"On the night of his accident, Johnny was going for an unbeaten run. In his last race of the meeting he passed Bob 'Cowboy' Sharp on the third lap to go in front. Then, for some unexplained reason, Johnny seemed to lose concentration and slammed into the safety fence on the third bend of the last lap.'
Walsh added, "He was badly injured and severely damaged the nerves in his arm which eventually led to the permanent loss of it. At 21 it was as bad as it could get."
As a 17-year-old. Greenwood had been a protege of Ernie Appleby at his Newton Heath training track near Manchester in 1953. Before the year was out Johnny had rides with Liverpool in National League Division Two, then finished the season at Southern League track St Austell.
At the start of 1954, Greenwood was with Edinburgh in their brief early season in the National League Division Two where he averaged 8.29 points in four league matches. His debut meeting at Meadowbank was in a pairs event where he took 13 points in his five rides and only renowned Scottish stars Ken McKinlay and Don Cuppleditch beat him. It made Greenwood an overnight favourite with Monarchs' fans.
A feature of Greenwood's brief spell at Edinburgh was his fiery style of riding when partnered with Don Cuppleditch. When Cuppleditch led in races, Greenwood was always hot on his tail, but when the placings were reversed there was no way the heat leader could get back in front. And when Edinburgh faced Leicester in the National Trophy, Greenwood returned paid double figure scores.
A feature of Greenwood's attitude to racing was that he hated to be passed when in front. McKinlay once said, "After a race in which he had been overtaken, Johnny asked me to explain just how his rival had managed to get past him. He was a true racer and dedicated to winning."
The closure of Edinburgh early in the season saw Greenwood move to Exeter, before the calls of National Service took him to Iraq for two years. Upon demob and with the 1956 season coming to an end, Greenwood joined Division One side Bradford, making just two appearances. And it was while racing at Bradford that Aussie track boss Fred Tracey was captivated by the youngster's spectacular style and invited him to go to Australia - a venture that was to end his racing career.
The serious injury did not see an end to Greenwood's love of life generally nor of speedway. He married and raised two sons and still takes a keen interest in speedway at Grand Prix level, and especially likes to see the meetings in Poland. Additionally, he is an enthusiastic member of the World Speedway Riders Association.