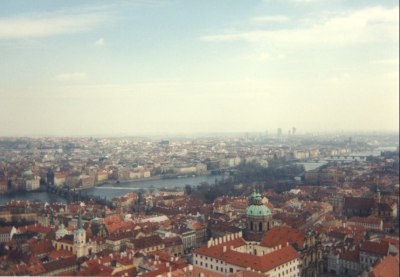 I travelled to Prague by train from Munich (I was studying here at the time) to join my brother and friends on an easter holiday. We stayed in some student halls of residence, which were empty during the holidays and crammed about six of us into a room for four. Prague is certainly a very beautiful city and also very lively. At the time I went it was also extremely cheap (although had become quite expensive since my brothers first visit - this being his fourth). I would guess that nowadays central Prague, once attracting tourists seeking a cheap holiday, has turned into a typical european tourist city - with prices to match, although still reasonable. But venture slightly out of Prague and the prices quickly drop.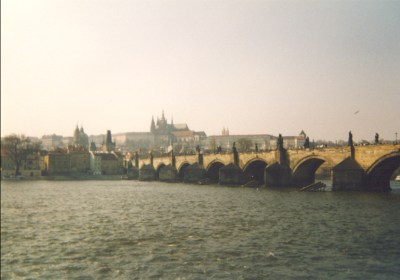 Getting around Prague is easily enough with its underground, trams and buses forming a well-functioning public transport system. In terms of things to see , I would say the three "must see's" are Charles' Bridge (a great place to pick up a painting or protrait), the castle (Hradcany) and cathedral on the hill across the river from the main town centre and also the main town square (Staromestska namesti) around which are situated the old town hall, an astronomical clock and two nice churches. Within the square there is also a good market for picking up interesting souvenirs.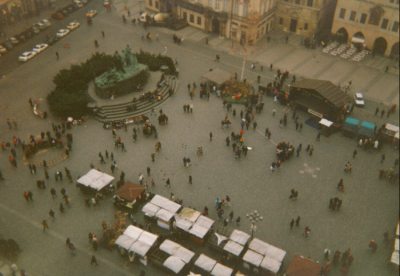 Having said that public transport in Prague is good, actually the city very easily discovered on foot (in my opinion this goes for all towns and cities). This is also a great way to see the old backstreets and alleys of Prague. A nice walk could start from the town square, lead over the river (the Vlatva) using Charles' bridge and end up by the castle and cathedral on the hill. From here you can also visit Kafka's house, which is in the vicinity.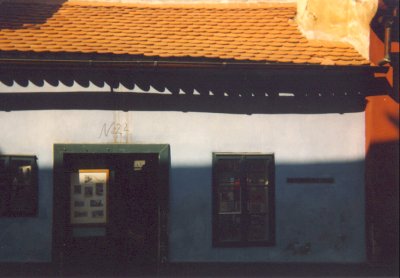 The night life in Prague is also lively and fun. There are plenty of restaurants, cafes, bars and clubs to keep you thorougly occupied during your stay here.
Due to some major logistical problems (like there was no cheap accomodation available in Prague on Easter Sunday) we had to leave the city and decided on driving south to Bratislava in Slovakia.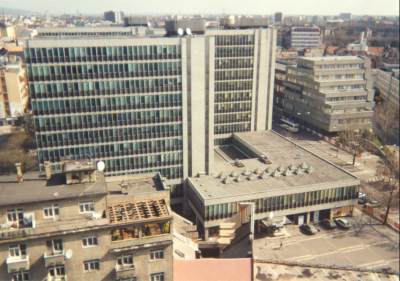 The drive to Bratislava was fairly uneventful. The city itself was not particularly pretty or interesting (athough I am sure if you search hard enough you will find plenty of things). We drove round looking for a hotel and ended up staying in what must surely be the largest hotel in the city (about 20 storeys tall). We checked into our rooms on roughly the 10th floor and spotted our venue for the nights entertainment (a place called Charlies Pub).
First tough, we thought we should do at least some sightseeing and drove up to the castle (whose name I have forgotten). Whilst the castle is ok, the view from the hill is probably the most depressing I have seen - row upon row of grey tower blocks as far as the eye can see. Welcome to concrete jungle and the beauty of communist architecture (although to be fair most of the western european buildings of the 60s aren't any better). We quickly left and replenished our souls in Charlies Pub.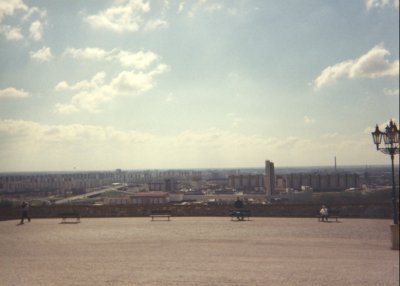 The next day we headed back to Prague and encountered the best of ex-communist bureaucracy and corruption. As we crossed the border into the Czeck Republic and started speeding off, overtaking a few cars on the way, we were flagged down by a policeman. Apparently we were speeding at double the speed limit, overtaking in a non-overtaking zone and had not bought a permit for the motorway. We were duly fined the equivalent of about 100 pounds. After a it of haggling by my brother, this was quickly reduced to 20, but we would only get receipts for 10 - ie the policeman would pocket the other 10. This was probably close to a months wages in those days for a Czeck copper!